2674
(SOLD)
Antique Chinese Silk and Gold Thread Embroidery Robe with Golg Fish is symbolic of unity and fidelity
This Masterpieces of Chinese Art was donated by Mr. Denman Ross in 1890 To Museum of Fine Art in Boston,

Antique Chinese Embroidery Robe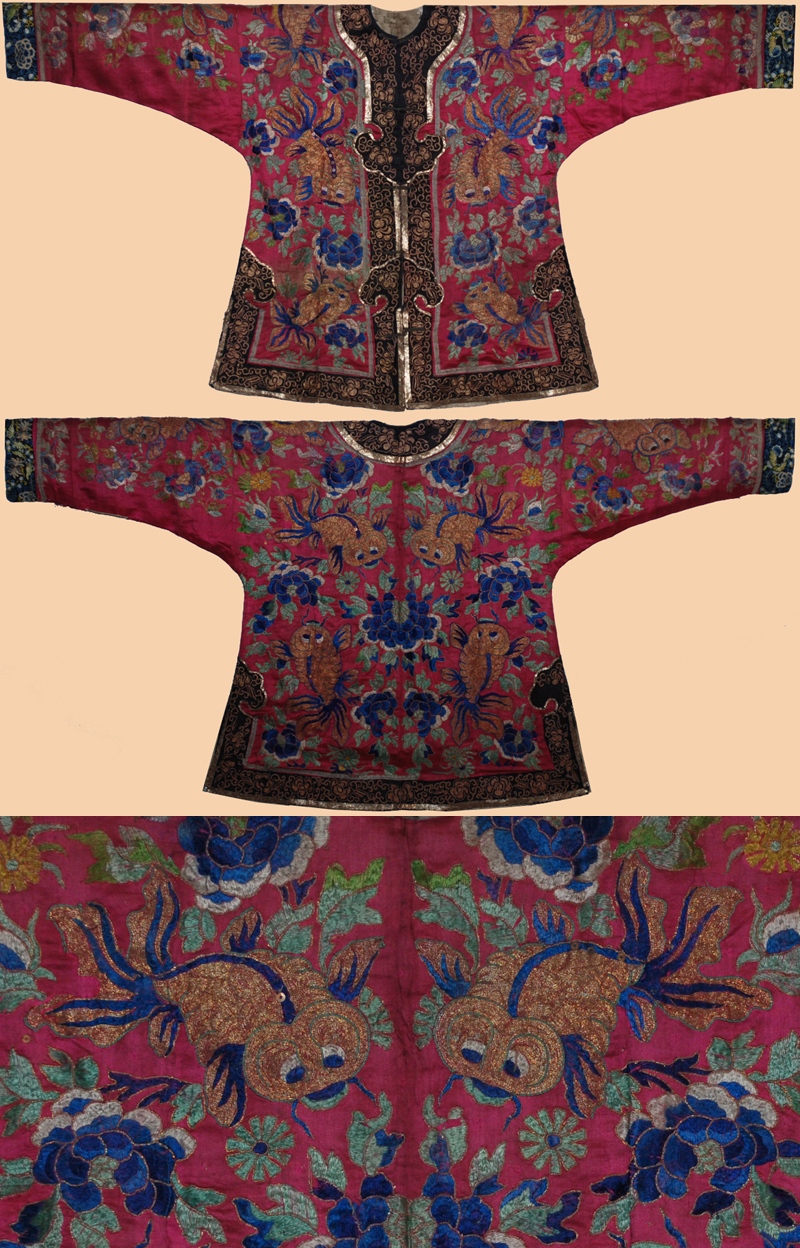 Chinese Symbolic
In China, the fish is symbolic of unity and fidelity as it is noted that fish (particularly koi) often ?swim together in pairs. With this in mind, fish are often given as wedding gifts in the form of ?charms or figurines to present the newly-wed couple with an auspicious sign of fidelity and ?perfect union. They also represent fertility and abundance due to their ability to reproduce in ?speed and volume. Furthermore, in Buddhism, the fish symbolizes happiness and freedom. Also ?the fish makes an appearance as one of the eight sacred symbols of the Buddha: 1) Conch, 2) ?Lotus, 3) Parasol, 4) Wheel, 5) Knot, 6) Pair of Golden Fish, 7) Banner of Victory, 8) Vase.?
Denman Waldo Ross (1853-1935) was an American painter, art collector, and scholar of art history and theory. He was a professor of art at Harvard University and a trustee of the Museum of Fine Arts Boston.
Ross completed his undergraduate studies at Harvard University in 1875, and earned his doctorate in political economy from the same institution five years later. He came to be interested in art soon after this, and began teaching courses in design and art theory at Harvard by 1889. Ross would spend much of the rest of his life lecturing on these and related topics, working with the Museum of Fine Arts, Boston on their burgeoning Oriental Art department, and traveling the world in search of artworks to add to his personal collection. Ross was also a member of some of Boston's elite inner circles, and is known to have brushed elbows not only with other prominent people associated with the Museum of Fine Arts and the art world, but also with the likes of Louis Brandeis John Singer Sargent, Joseph Lindon Smith and various members of Boston's most prominent families.
A number of his students at Harvard, the Museum of Fine Arts, and elsewhere he lectured, went on to become prominent artists. Hyman Bloom and Jack Levinewere among these.
The collection of objects donated by Ross to the Museum of Fine Arts over the course of his career as a collector covers a wide geographical, chronological, and material diversity. He collected a myriad of European art objects, along with a great many Chinese and Japanese paintings and textiles. Among the many objects in the Denman Waldo Ross collection at the Museum are a stone head from a 7th century Chinese scroll painting attributed to Yan Liben, a set of folding screen paintings of Hanamachi pleasure quarters, and a number of Chinese Buddhist steles and paintings.